Why the Magic Eraser Sponge just use water to get strong clean powerful?
Pubdate:2018-11-07
Magic eraser sponge introduction
Magic eraser sponge is a new friendly cleaning product which produced by melamine resin and nano technology, The magic eraser sponge that is visible to the naked eye is delicate and flexible. Let's enlarge and reamplifying. Then we can found Its interior presents a three-dimensional angle like an innumerable interlaced fishlike structure, so it with 99.9% anti-bacterial and the granule become very small, smaller than 1/10000 of the hair, the opening rate is as high as 99%. Then After absorbing water, these extremely fine reticulated tubes produce a physical effect, which we call capillary action.
They can automatically absorb stains when they come into contact with the objects they wipe, and magic eraser sponges interact with a huge number of nano capillaries, like numerous ultrafine vacuum cleaners.

Also The hardening stage of Enworld magic eraser sponge manufacturing process, The hardness of these copolymers is similar to that of glass. It can be said that highest hardness plastics. Because of its high hardness, it can be imagined that the surface dirt can be treated with extremely fine sandpaper in the cleaning process. That's why the magic eraser sponge is so effective at cleaning and polishing.

With this two features, Just use water can remove any dirt and grime without chemicals like: detergent or soap. More importantly, there is only physical changes during the cleaning, no chemical changes like the detergent. More economical and environmental protection.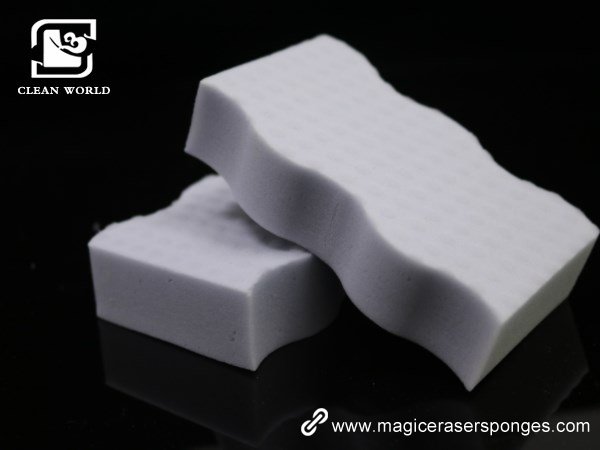 magic eraser
Product contain:
orginal magic eraser sponge(White, Pink, Gray), comfort hold magic eraser sponge(White, Pink, Gray), magic eraser with PU composited sponge(Blue, Gray), magic eraser with Scouring pad composited sponge(Yellow, green, bule), Cup brusher sponge...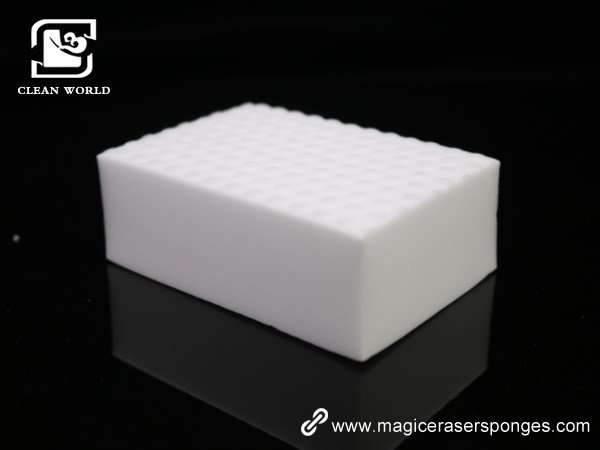 White magic sponge
What questions for melamine sponge can solve?
Enworld magic eraser sponge can effectively clean tea dirt, dust, dirt, scale, soap dirt, etc., and for hard and smooth surfaces (such as ceramics, plastic plates, glass, stainless steel), it can exert a good decontamination effect which the common cleaning products not easy to clean.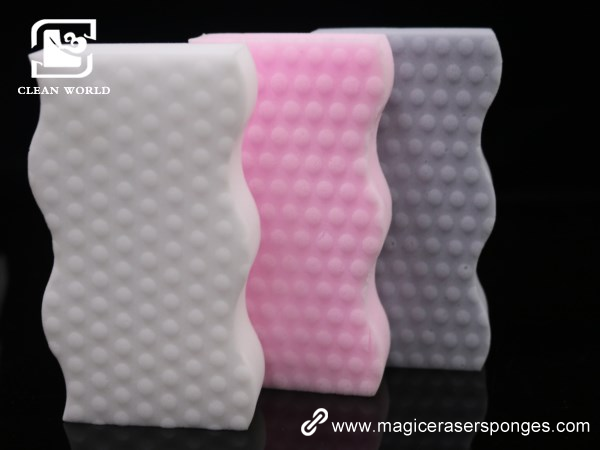 high density melamine sponge
Enworld Magic eraser sponge application:
Our magic eraser sponge main to remove the Crayon & Marker, Dirt & Scuff Mark and Soap Scum which just use water without chemicals.

Ceramics: dishes, tableware, tea sets, toilets, bathtubs, mops, urinals, mosaics, tiles and other stains.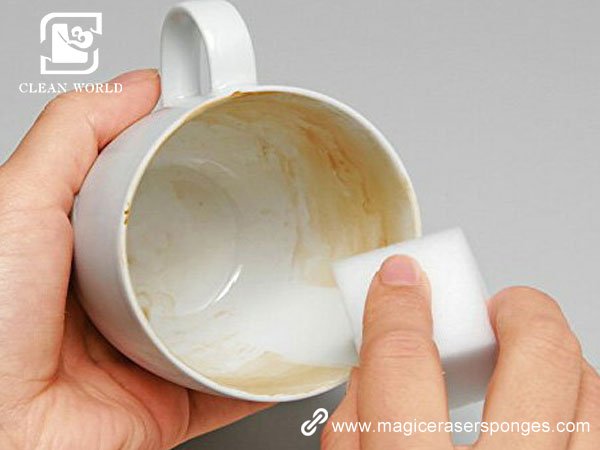 magic sponge tea cup cleaner
Plastic products: stains of plastic tables and chairs, plastic steel windows, shower rooms, children's toys, plastic slippers, plastic trash cans and so on.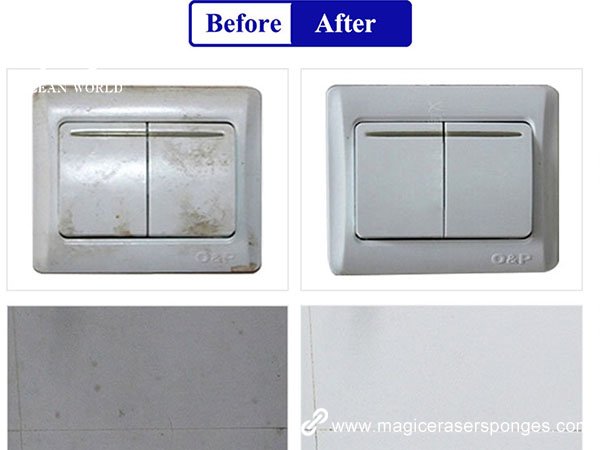 magic eraser sponge for plastic cleaner
Office equipment: such as office desk, computer (keyboard), printer, duplicator, fax machine, telephone, pen, ink and other surface stains.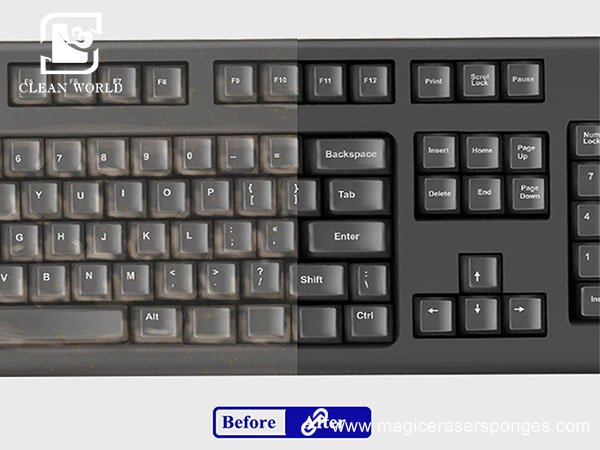 magic eraser sponge for office cleaner
Electrical appliances: TV, fridge, washing machine, air conditioner, microwave oven, fan, rice cooker, disinfecting cupboard and other stains.

Glass products: windows and doors glass, decorative glass, vases, lamps and stains.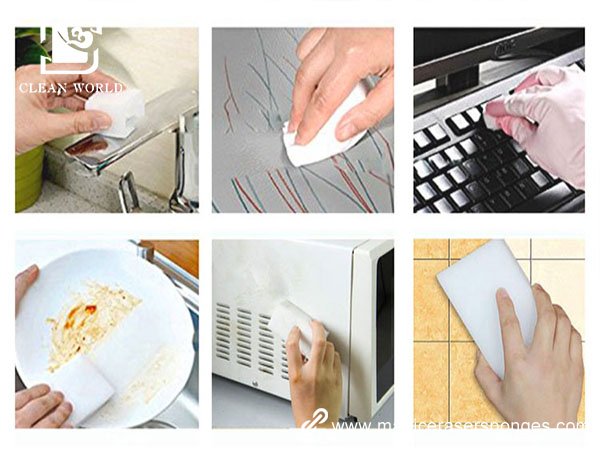 magic eraser sponge for electrical cleaning
Leather products: stains of cars and their interior, leather furniture, sofa, leather bags, tourist shoes and so on. After cleaning, they need to be maintained with leather lubricants.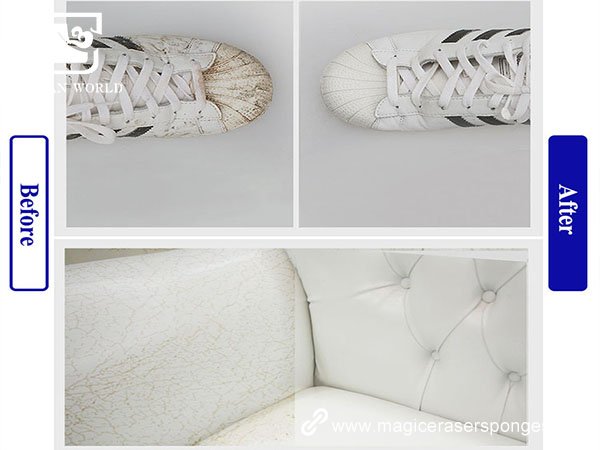 magic eraser leather cleaner
Hardware products: locks, switches, sockets, wires, knives and other stains.How to distinguish the high quality and inferior of magic sponge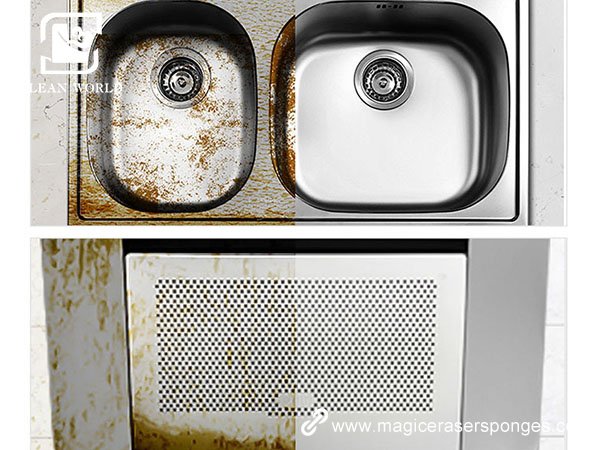 magic eraser sponge for metal detergent
Inferior magic sponge:
1. easy to break and crack when used.
2. use fast wear, scaling off.
3. the product tastes heavy.
4. hand feeling is not good, the product failed to achieve the desired cleaning effect.



Enworld high quality melamine sponge:
1.Higher density and Homogeneous pore, not easy to dregs.
2.Toughness is better, you can knead dry water with your hands.
3.It has strong abrasion resistance and durability, and the cleaning effect is more obvious.
4.No rare delicacy, more environmental protection.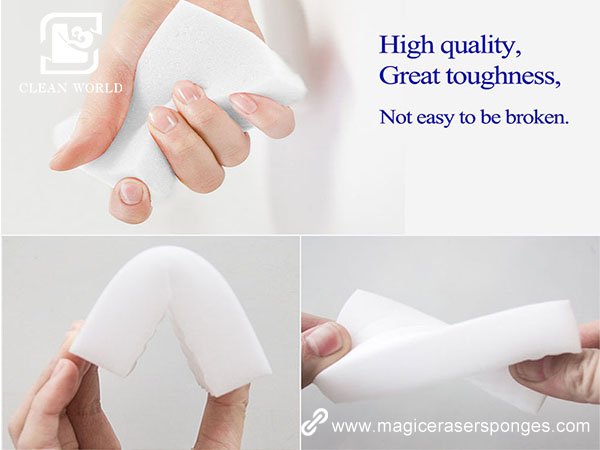 Great toughness magic eraser sponge
The Magic Eraser Sponge Using Method:
1.Soak Magic Eraser Sponge in water.
2.Squeeze out magic eraser sponge excess water with hands, don't twist
3.Rub on the dirty surface use the magic eraser sponge, the stains will remove.
4.Wipe the surface with clean cloth.
5.After using the, clean the magic eraser sponge up with water and dry it out. Used again.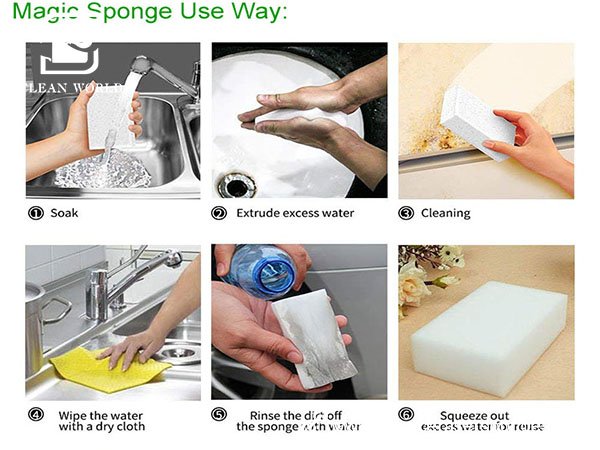 how to use magic eraser sponge



Notes:
· Do Not Use On Heavy Oil Or Screen.
· When Use Extra Power Magic eraser sponge On Leather, Should Be Tested In Hidden Spot To Check Whether It LosesColor Or Not.
· Extra Power Magic eraser sponge Becomes Smaller And Smaller After Using As Erasers.
Prev:
Henan Secretary of the Provincial Party Committee Xie Fuzhan Came to Inspect Henan Enworld Industrial Limited Company
Next:
None
Leave a message
Kindly leave your requirement about magic eraser sponge in below form, we will back to you ASAP once we got your message.