Best Cleaning Melamine Sponge Supplier
Pubdate:2017-06-03
Melamine sponge is the physical mechanism of decontamination, to rely on the special structure of the capillary openings that it can absorp stains automatically when wiping , totally do not need to rely on any chemical detergent to help the degradation. Melamine sponge is not soluble in water, so the stains will naturally fall off in the water when squeezing the sponge in the water, and the sponge can be reused. It can erase many dirts which may not be erased by the traditional sponge, even in the uneven surface. The magic of super detergency, brought endless convenience to our daily lives.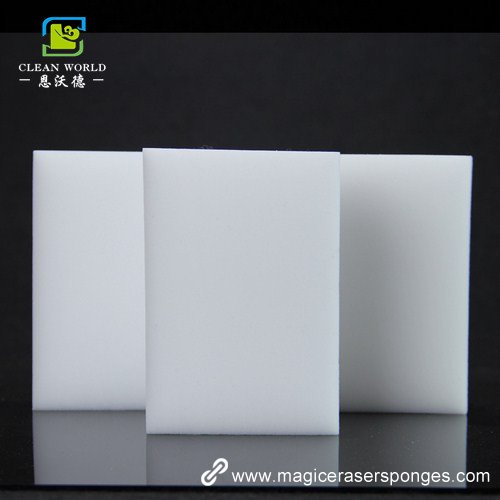 Melamine sponge picture
Melamine sponge can used in the following items:
1. bathroom, kitchen,kitchen appliances,dishes, cutlery, tea stains;
2. tiles, mosaics, wall and floor stains;
3. electrical appliances such as: electrical switches, refrigerator,Microwave, TV, Phone, fan, etc.
4. office equipment such as: computer (keyboard) ,printer, copier, etc.;
7. the dirt on and in the car
8.leather products such as: furniture, sofa, handbags ( using leather lubricant maintenance after cleaning) .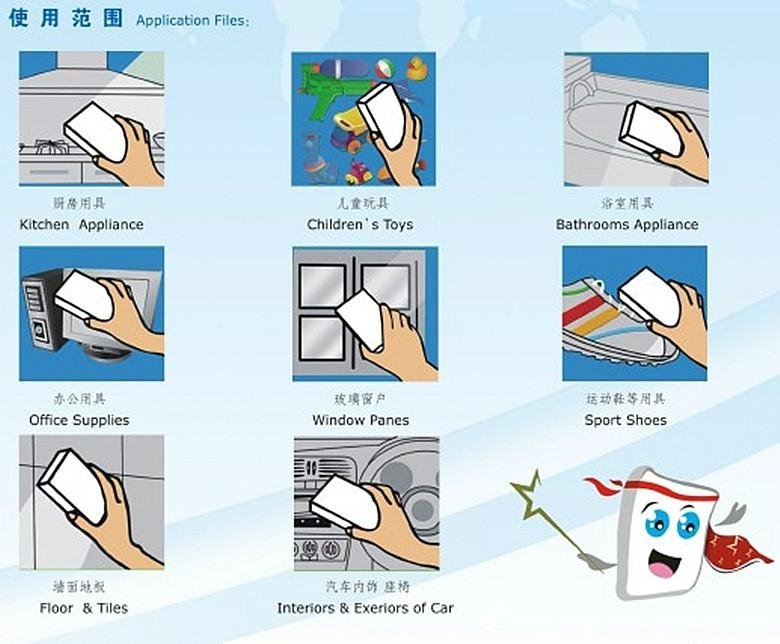 Melamine sponge application files
Melamine sponge features:
1. Melamine sponge can absorb the dirt on the car door, the oil of leather chairs , the dirt on the wheel rims, auto glass, instrument etc.
2. Melamine sponge clean the accumulated dirt, scale, soap dirt, grease, especially dirt on the hard smooth surface .
3. Melamine sponge not to hurt the material surface, not to hurt the skin, no residue, are environmentally friendly products.
4. Melamine sponge can be cut into any of different size, easy to use, and affordable.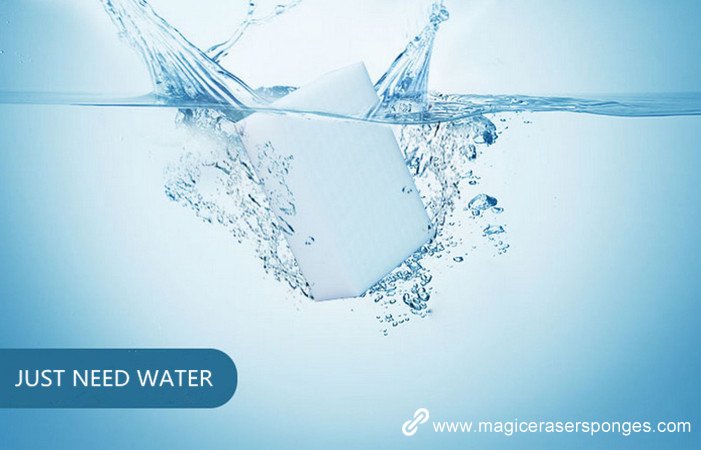 Melamine sponge just need water can clean stains
Usage of the Melamine sponge:
1. You can remove the dirt just with Melamine sponge and some water like using an eraser.
2. Melamine sponge can be cut into any of various sizes (can be cut with a knife).
3. Melamine sponge is consumable, pieces gradually falling off after using a long time so it will become smaller (like using an eraser,become smaller and smaller).Melamine sponge will be better if proper control of water and the pieces will fall off easily if it is too dry.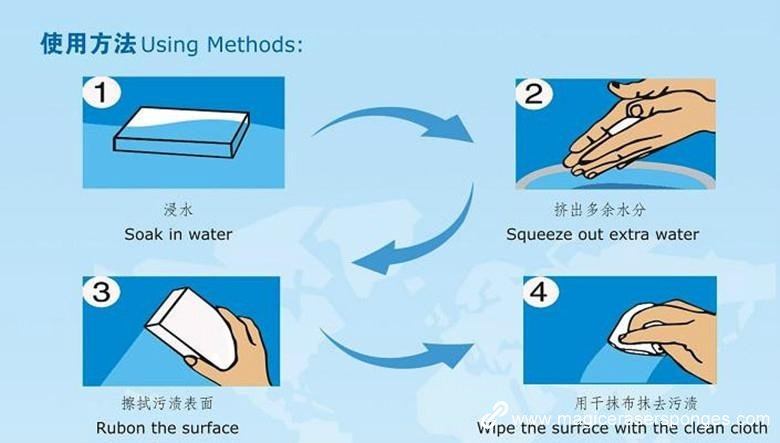 Melamine sponge using method
Notes when using melamine sponge:
1. rinsing the dishes with water after using melamine sponge sponge.
2. due to the use of melamine sponge must with water, so do not use for cleaning some electrical products which can not touched water or make sure drying electrical products after using.
3.Melamine sponge may easily broken when used too hard or to clean uneven surfaces.
4. Do not use bleach or hot water disinfection for it will make melamine sponge become yellow or some quality modification.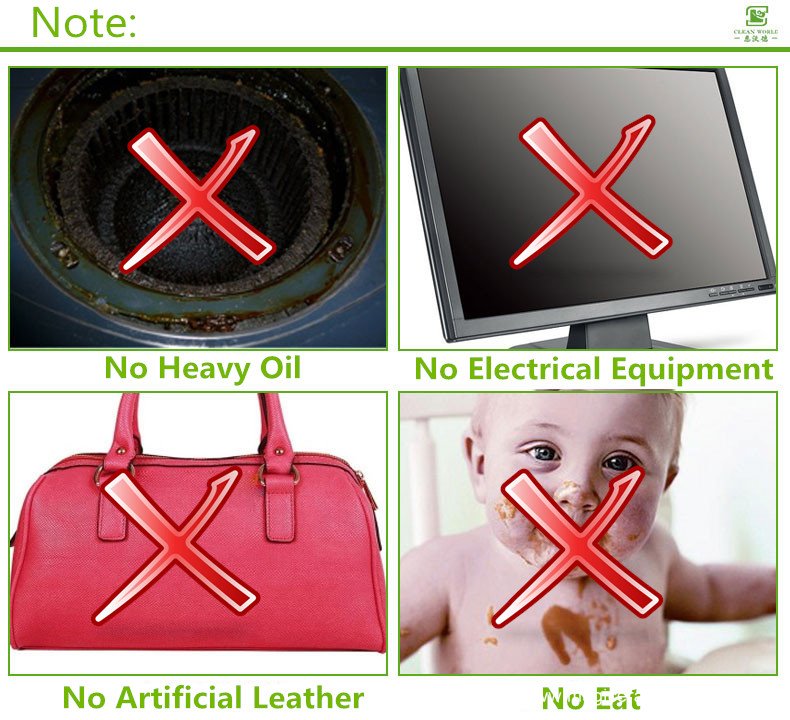 Melamine sponge using method
Tips for using melamine sponge:
1.Put hands palm to palm, squeezing melamine sponges, make the water out.
2.Do not SCREW melmaine sponge for it will be easily broken.
3.Do not Squeeze from both ends of the melamine sponge to the center of it.There will be a deep indentation after squeezing it in this way many times,and it will be disconected from this place if you always use it in this way.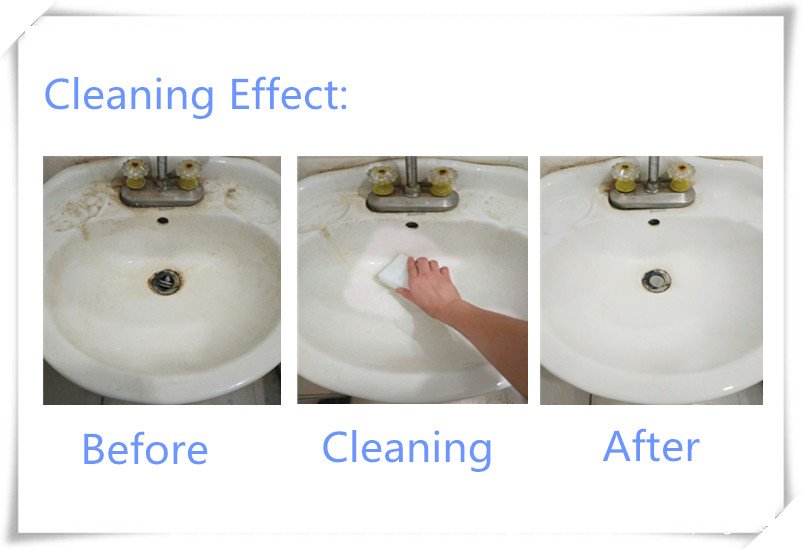 Melamine sponge cleaning effect
PRE:Eco-friendly kitchen cleaning sponge magic eraser
NEXT:A very magic sponge rub magic eraser for kitchen cleaning
Leave a message
Kindly leave your requirement about magic eraser sponge in below form, we will back to you ASAP once we got your message.